---


Island Lagoon

Photos by William Schoene, who worked at Island Lagoon Minitrack in 1964.

Island Lagoon entrance sign.
Island Lagoon from a passenger flight out of Woomera.
The road is the access road in to the site. DSS-41 is out of frame to the lower left. The edge of the Minitrack field is hidden by the wing.
(See a simulated view with help from Google Earth.)
Aerial view of Island Lagoon from about 6,000 feet (1800m).
The 85 foot dish of DSS41.
This is after the S-band upgrade.
Rear of the dish.
The Minitrack site from the North East.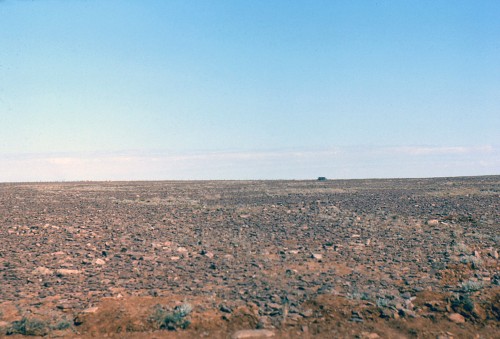 The Donga.
Island Lagoon on a clear day.
(From the road to Minitrack?)
Kangaroos!
Water in Island Lagoon.
Island Lagoon salt lake.
Pointed Hill.
Salt lake horizon.
Flies on Householder.
Protection against flies, out on the salt pan.
Livingstone Daisies and a Pricky Pear (both species introduced to Australia) flourishing due to a dripping water tap.
Woomera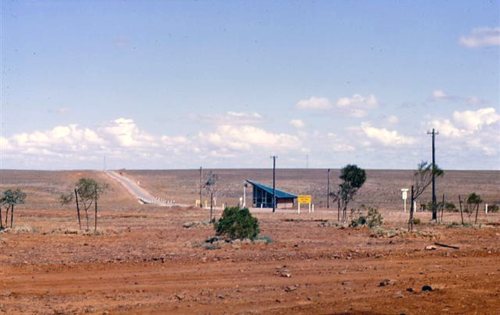 Holden, built by General Motors Holden.
Woomera War Memorial.
Jindivik target drone on display in Woomera.
Bloodhound surface-to-air missile on display in Woomera.
Other sights in the area
Lake Hart.
Site of Aboriginal carvings.
Carvings.
Carvings outlined with chalk.
Carvings outlined with chalk.
Arcoona sheep station.
Sheep on Arcoona sheep station.
Andamooka housing.
Opal mines on the ridge.
More kangaroos.
Flying into Adelaide.
Transparencies and scans with thanks to William Schoene.
Photo restoration / colour-correction by Colin Mackellar.